Gezocht:
arbeidsmarktvernieuwers
Heb jij een innovatieve HR-oplossing voor de uitdagingen op onze arbeidsmarkt?
Doe dan zeker mee aan onze challenge en win een forse duw in de rug voor jouw start-up!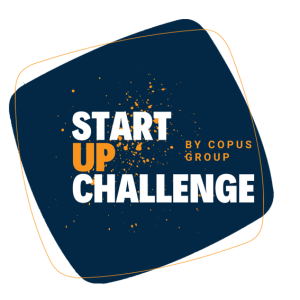 Wat is de
Copus Start-up Challenge

?
Kansen creëren voor talenten, skills ontwikkelen, de kloof dichten tussen kandidaat en werkgever – elementen die een sleutelrol spelen in de arbeidsmarkt van morgen. Daar zijn innovatieve ideeën voor nodig. Voor nieuwe HR-diensten en -producten. Van gedreven ondernemers.
Ben jij zo'n frisse HR-wind die volop inzet op de
jobs van morgen

?
Dan is Copus Group, de groep boven onder meer Vivaldis Interim, op zoek naar jou.
Want als internationale HR-groep willen we jonge innovators een kans geven om te groeien. Noem het een accelerator, incubator of transformator: laten we samen jouw 'kindje' grootbrengen!
Onze CEO Anke Ulens legt je uit waarom je absoluut aan onze challenge moet deelnemen!
Maandelijkse coaching sessies met top experts in HR-ondernemerschap
Gratis tips en insider advies van business experts
Een inspirerende werkplek voor 4 personen en vergaderruimte in het gloednieuwe HQ in hartje Antwerpen!
Aandacht in de gespecialiseerde pers, bouwen aan je netwerk en contacten met decision makers
Alle inzendingen voor de Copus Start-up Challenge worden beoordeeld door een uitgelezen groep van 5 experts uit verschillende domeinen, maar allemaal met een sterke link naar HR en ondernemerschap.
Klik op de foto van het jurylid om zijn of haar LinkedIn pagina te bezoeken.
Anke Ulens - CEO Copus Group
Afgestudeerd als Handelsingenieur aan de Universiteit Antwerpen heeft Anke Ulens sinds 1995 een indrukwekkende carrière in HR-dienstverlening uitgebouwd. Na bijna 14 jaar aan het roer van uitzendpoot Vivaldis Interim, werd zij in 2020 CEO op groepsniveau van Copus Group die ze sindsdien heeft uitgebouwd tot een internationale HR-specialist die in België, Duitsland en in Nederland actief is. De groep verzamelt specialisten in uitzendwerk, HR-consultancy en projectsourcing en biedt zijn klanten toegevoegde waarde vanuit een diepgaande kennis van specifieke niches.
Elke Van Hoof - Experte stress, veerkracht & welzijn op het werk
Als academicus en HR-onderneemster is Elke Van Hoof een veelgevraagd expert en spreker in het domein van stress, werkhervatting, burn-out en veerkracht. Daarnaast is Elke oprichter van onderzoeks- en trainingscentrum Ally Institute, en drijvende kracht achter Oh My People, een expertisecentrum waar bedrijven terecht kunnen voor een strategisch welzijnsbeleid op maat.
Yin Oei - CEO Living Tomorrow Group
Sinds augustus 2022 is Yin Oei CEO van Living Tomorrow Group, waar zij mensen wil verbinden en inspireren, gedreven door haar passie voor innovatie. Yin Oei kwam in 2019 bij Living Tomorrow als Chief Strategy Officer, na een carrière van bijna 20 jaar in de IT-sector. Als country manager Belgium voor Cegeka, werd zij in 2018 nog genomineerd door Data News voor ICT Woman of the Year.
Alain Mouton - Redacteur Trends
Alain Mouton is sinds 1999 redacteur bij zakelijk magazine Trends, waar hij deel uitmaakt van de kernredactie. Alain is gespecialiseerd in de arbeidsmarkt en HR-topics en -ondernemerschap.
Alain is ook de auteur van meerdere boeken. Zo schreef hij 'Red de welvaartstaat' samen met Trends-collega's Daan Killemaes en Roeland Byl en is hij de solo-auteur van het boek 'Vlerick-boys: een Vlaamse meritocratie' en 'Het geld is op!'.
Alexander Mertens - Policy Advisor Entrepreneurship & Startups
Als jonge ondernemer weet Alexander Mertens maar al te goed welke uitdagingen er gepaard gaan met de lancering van een start-up. Tijdens zijn studies Politieke Wetenschappen – Internationale relaties stond hij mee aan de wieg van HR-start-up Seal Jobs. Vandaag bekleedt hij verschillende posities in de start-up wereld. Hij is Co-Founder bij The French Kiss Club, bekend van de wijn in blikjes, adviseur bij Stolp (tools om te deconnecteren van je smartphone) en bij Yui Skin (die binnenkort op de markt komen met powder based skincare). Daarnaast was hij voorzitter van Jong VLD Antwerpen en is hij momenteel Policy Advisor Entrepreneurship & Startups bij Stad Antwerpen.
We tellen af

naar onze exclusieve HR Start-up Challenge op 11 mei 2023
Bezorg ons jouw kandidatuur vóór 15 april
De jury buigt zich over alle inzendingen
De 3 geselecteerden pitchen hun idee op 11 mei live bij de jury van experts
Overtuigd? Deelnemen aan de Copus Start-up Challenge is eenvoudig. Vul het inschrijvingsformulier in en stel ons jouw innovatieve HR oplossing voor in een videoboodschap (max. lengte 3 minuten, max. bestandsgrootte: 20 MB).
We zijn erg benieuwd en kijken al uit naar jouw reactie!
Ten laatste op 28 april weet jij of je bij de genomineerden bent voor een finaleplaats.
Lees alvast even het wedstrijdreglement door.
We beantwoorden jouw vragen graag persoonlijk.
Neem contact op met ons via de knop hieronder.